The Challenge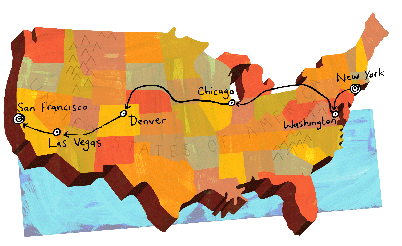 Well we did it, we made it to San Francisco all in one piece. Please check out the links at the bottom of the page to see all the photos, news and videos on Facebook or YouTube or the Blog.
Thank you to all who have donated to all our charities. There is still time if you wish to donate.
The five cyclists of different abilities and motivations undertook a unique personal challenge by cycling over 2000 miles from New York City to San Francisco Bay. We saw an incredible collection of sights along the way and training over the winter to prepare us for what lies ahead. In order to complete the challenge over three weeks, we are aiming to cycle approximately 100 miles a day.
Some of us are relatively new to 'endurance cycling' and others amongst us are more seasoned cyclists. The trip is a self-organised and self-funded challenge but each of us has chosen a charity for which we aim to raise both money and awareness. Details here.
The Riders
We are Surrey guys, aged between 27 and 49, four of us are dads. We are united by our commitment to this challenge, by our love of cycling and by our desire to support our chosen charities. Click here to find out more about us.
The Route
Full details of the route and sights are available here but highlights include: New York City, Washington, Niagara Falls, Chicago, Mount Rushmore, Denver, Monument Valley, Hoover Dam, Las Vegas, Death Valley, Yosemite National Park, Napa Valley and San Francisco.
Keeping in Touch
From August we will have live tracking which means you can follow our progress from this website. We will also be using the latest social media tools to stay in touch with our families, friends and supporters: